What is IFRS16?
IFRS16 is the new International Accounting Standard for recognising, measuring, presenting and disclosing Leases.
IFRS16 replaces IAS17 whereby only Financial (Capital) leases were disclosed as Assets with a corresponding Liability on the Balance Sheet. Operating Leases were treated as renting whereby lease payments were reported as an expense in the Profit & Loss.
Under IFRS16, companies in future financial years (effective 1 January 2019) must treat Operating Leases similarly to Financial Leases – as a "Right of Use" Asset with a corresponding liability.
How does this change Financial Reporting?
With the exception of low value and short-term (less than 12 month) leases, all Leases must be recognised as "Right of Use Assets". These Assets will be depreciated on a Lease by Lease basis.
The Liability of individual leases must be disclosed in the Balance Sheet. The liability will be paid down over the life of the lease with instalments, however the cost of finance must also be captured in this liability with the offsetting post of Interest Expense to the Profit & Loss.
Within the Profit & Loss Statement, replacing operating lease expense with Depreciation and Interest expense will result in a more profitable figure reported in EBITDA, but will have a lesser impact on the bottom line of Profit before Tax.
The Balance Sheet will show a significant increase in Assets & Liabilities – especially those companies with extensive use operating leases (e.g Airlines financing aircraft through off- balance lease models).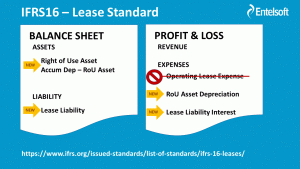 Getting ready for IFRS
If your company runs a January to December financial calendar, this new accounting standard must be reflected in your January 2019 month-end. Companies under a July to June financial year have a little more time to get ready.
It will be necessary to calculate the Right of Use Asset Value and associated Liability for each Lease and to decide how to manage the ongoing lease payments, depreciation and interests in your accounting system.
Options for SAP ERP customers
The most comprehensive lease contract management solution for SAP customers can be delivered using functionality within SAP Flexible Real Estate module (SAP RE-FX). Whilst suited to companies managing many properties with complex lease arrangements, a new module in SAP may be overly complicated for many SAP customers.
The financial accounting for leases can be managed manually with the Leases reflected as Assets and Lease Liability in the General Ledger or Vendor Subledger. Depreciation of Leases will be posted through the EOM depreciation process, whilst posting of interest and reduction in lease liability will need to be managed manually.
SAP customers may also consider some custom development to capture the salient Lease information and automate monthly posting of lease payments and interest. Entelsoft's custom solution leverages standard Accounts Payable and Fixed Assets functionality to rapidly deliver the required functionality for compliance with a small footprint on SAP in a short timeframe.
If you would like to understand these options in more detail or require assistance, please Get in touch .